Now that Daniel & I are armed with piping tips and the proper equipment to make pretty cupcakes, I am determined to find THE perfect cupcake recipe, and I will definitely know that I have found it when Dan can eat 3 of them in one sitting (and most likely, in 3 bites or less).
THIS recipe, however... is not the one.
They did look very very cute, but they were a bit disappointing. The cupcake was far too dry, and the frosting turned out initially more like strawberry marshmallow frosting, and then transformed over night into some type of strange meringuey, light, hard topping on our bright blue beauties. Here is the recipe for the cupcake as I used it, almost exactly as it is shown in my little pink book: "500 Cupcakes - the only cupcake compendium you'll ever need".
Vanilla Cupcakes
1 C sweet butter, softened
1 C superfine sugar
2 C self rising flour
1 tsp baking powder
4 eggs
1 tsp vanilla extract
And we um.. added a ridiculous amount of blue food coloring, and a few sprinkles too.
Preheat the oven to 350. Place all ingredients in a medium bowl and beat with an electric mixer until smooth and pale, about 2-3 minutes.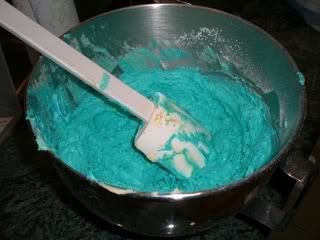 Spoon the mixture into the cups.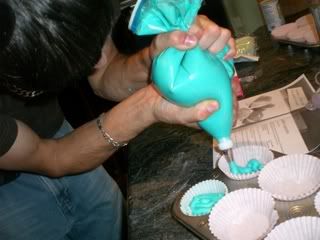 Bake about 20 minutes. Remove from oven, cool for 5 minutes, then remove from tins and let cool on wire rack.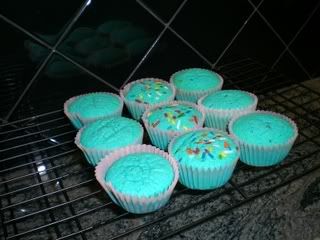 Hm.. now that I'm looking at it, I used regular granulated sugar, I probably should have used confectioner's. Maybe thats one reason they're too dry. And yes, I thought the directions asking me to put all ingredients in a bowl and beat were strange, but I followed them anyway.
Strawberry (Marshmallow?) Frosting from Cooks.com
1 C sugar
1/2 C sliced fresh strawberries
1/8 tsp salt
1 egg white, room temp.

In top section of double boiler, combine all ingredients. Beat with electric beater to blend well and dissolve sugar. Place over boiling water and continue beating until frosting stiffens and holds its shape, about 4 minutes beating time. Remove from heat and continue beating until cool, about 2 minutes. Generous topping for large angel food or sponge cake.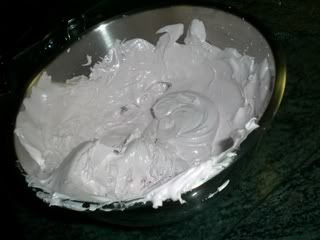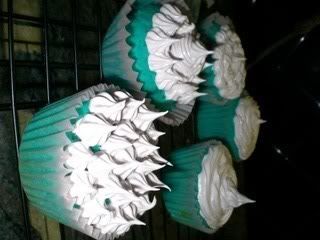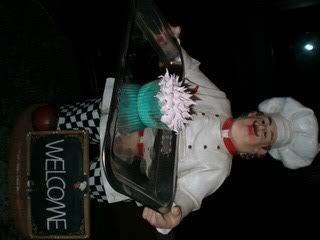 Anyway, these were fun, but not eat-8-for-breakfast good, so the quest shall continue.