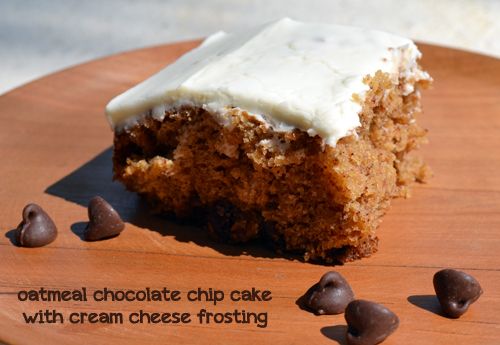 What is your favorite place in the house? To many of us bakers, I'm sure the consensus is: Kitchen! I always have all the tools I need right at my fingertips. It is set up exactly the way that I find it works best for us. I think thats why baking is a stress-reliever for me. Despite whatever happens to be going on, my measuring spoons are always exactly where they belong and my mixing bowls can always be found neatly stacked in the cabinets... that is, unless I find out I left out an essential ingredient when the bake-saster is already in the oven, or something sticky boils over all over the stovetop (not that that EVER happens... ever).
Speaking of stress-relieving, a slice of this cake would be the perfect answer to a stressful week. It is quite easy to throw together and uses things most of us probably already have in the pantry. It is large enough to feed a good amount of people at a gathering (9 x 13!), and it is definitely comfort-foody in a I-Taste-Like-A-Big-Oatmeal-Chocolate-Chip-Cookie way. You could even sneak a piece in for breakfast during those particularly chaotic weeks, I won't judge you.
So, if you need something comforting and delicious thats easy to prepare, this is the cake for you.
Check out Jamie's blog Cookin' with Moxie and or the Baked Explorations cookbook for the recipe.