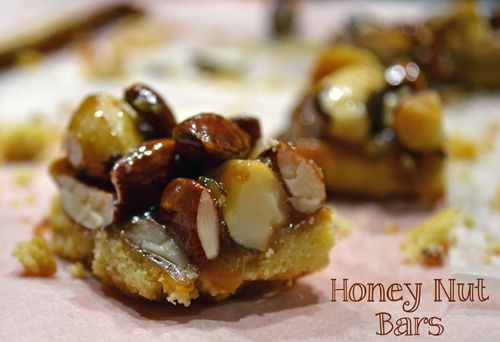 No, I haven't given up blogging! It's been quite a while since my last post, but I'm still here. We've just had a lot going on over here. A weekend trip to NY for a dear friend's wedding, getting sick with the flu (who gets the flu this time of year??) and demolishing our entire downstairs floor. That's right. Due to "improper installation," our tiles were popping up all throughout the lower floor of our home. That meant the kitchen, pantry, living room, bathroom, dining room, and front hallway were all affected. During the tile removal, cleaning and new tile reinstallation process, we were actually without an oven for a few weeks (gaspppp!).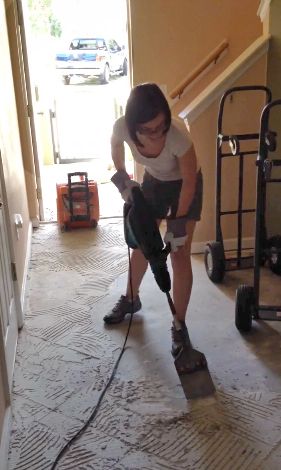 Yep, that's me with a demo hammer. And no, I have no idea what I'm doing.
It was a long, tiring, dusty process, but it is finally over and we are getting back to normal. So more blog posts will be soon to come!
For now, I'll share this recipe for Honey Nut Bars. I made these in honor of a friend's new apiary. She's a bee-mom now! So we brought her these honey-ful goodies for dessert. I had my doubts about these coo
kies, but they were received very well. The bottom layer is a buttery, shortbread cookie. It's piled high with sticky honey coated mixed nuts.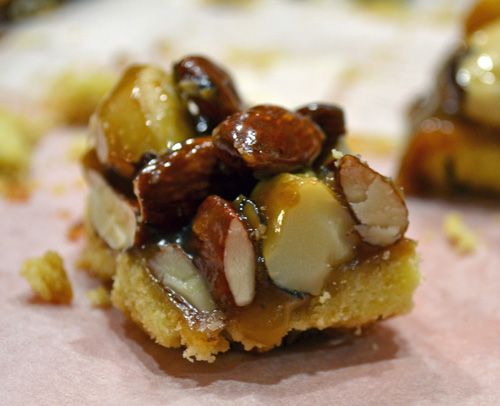 Ingredients for the Crust:
1 1/4 cups all-purpose flour
1/2 teaspoon baking powder
1 stick (1/2 cup) cold unsalted butter, cut into pieces
1 large egg, lightly beaten
Ingredients for the Nut Topping:
1/3 cup plus 1 tablespoon mild honey
1/4 cup packed light brown sugar
3 tablespoons cold unsalted butter, cut into pieces
8 ounces nuts (I used a combination of whole almonds and chopped brazil nuts)
To bake the crust:
Grease a 9-inch square baking pan and line with parchment.
Pulse together flour, sugar, baking powder, salt, and butter in a food processor until the mixture resembles pea-size butter lumps. Add egg and pulse until a crumbly dough forms.
Press dough evenly onto bottom (but not up sides) of baking pan and bake in middle of oven until edges are golden and begin to pull away from sides of pan, 15 to 20 minutes. Cool in pan on rack.
Make topping:
Bring honey, brown sugar, and salt to a boil in a 2-quart heavy saucepan over moderate heat, stirring until sugar is dissolved, then boil, without stirring, 2 minutes. Add butter and cream and boil, stirring, 1 minute. Remove from heat and stir in all nuts until completely coated.
Pour nut mixture over pastry crust, spreading evenly, and bake in middle of oven until topping is caramelized and bubbling, 12 to 15 minutes. Cool completely in pan on a rack. Lift dessert out of pan using foil overhang and cut into squares.