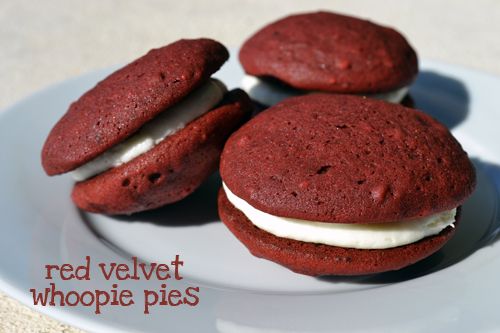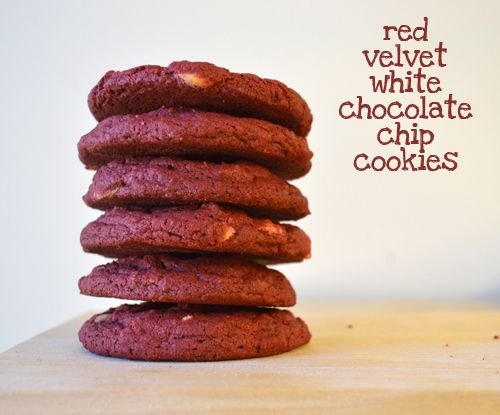 After seeing that Red Velvet Whoopie Pies was up next on the baking list for Club Baked, it must have put Red Velvet on my mind. Both of these Red Velvet cookies were quick to whip up and tasted great - Nice variations on the traditional Red Velvet Cake.
First up, is the Red Velvet Whoopie Pies from Baked Explorations: Classic American Desserts Reinvented. Before making them, I did a quick search to see how other people fared with this recipe and I saw nothing but glowing reviews. I was nervous to do whoopie pies again because in the past, my one and only attempted ended in super flat pies that spread into each other. Utterly inedible! So this time, I was cautious and made this recipe exactly as the book stated. The result? FAR better than my last attempt! These were a cinch to put together, and baked up exactly as they were supposed to. I used two different fillings: Buttercream frosting and Cream Cheese frosting. I haven't sampled a Cream Cheese one yet, but the Buttercream filled whoopie pies are delicious. These would be adorable Easter treats if tinted with pastel colors! I omitted the walnut topping on the filling, but I think these would be adorable with Sprinkles. For the recipe, visit Andrea of Nummy Kitchen and visit Club Baked to see how the other bakers' pies came out.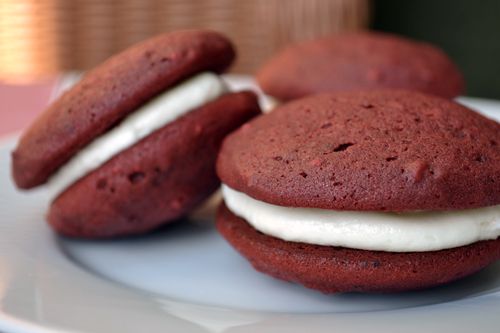 Next up is Red Velvet White Chocolate Chip Cookies. If the Whoopie Pies were easy, these were even easier. This is a simple drop cookie. Not fussy at all, but makes quite a unique, pretty little cookie. I'd definitely make this recipe again. Unlike other drop cookies I've made, these dried out after a couple of days, so these are best eaten within a day or two... but that probably won't be a problem. :)
Ingredients:
2 sticks unsalted butter, softened, room temp
1 cup light brown sugar firmly packaged
2/3 cup cocoa powder, unsweetened
1/2 to 1 cup white chocolate chips (to taste)
Preheat the oven to 375 degrees. Line baking sheets with parchment paper and set aside.
In the bowl of your standing mixer fitted with the paddle attachment, cream the butter and both sugars on medium-high speed until light and fluffy, about 2 minutes.
Add the food coloring gel until you reach the desired color. Remember, it will get darker when the cocoa powder gets mixed in.
Reduce the mixer speed to medium-low and add eggs and vanilla, mixing until combined.
Reduce the mixer speed to low and add the flour, baking soda, salt, and cocoa powder, mixing until thoroughly combined.
Using a rubber spatula, gently fold in the white chocolate chips until incorporated.
Using a cookie dough scoop, drop the dough about two inches apart from one another.
Bake until slightly golden and crisp around the edges, about 10-12 minutes.