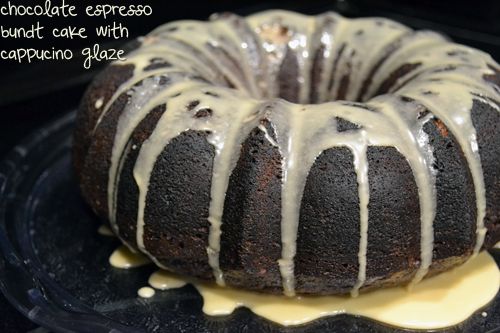 I think Bundt cakes are an under appreciated member of the dessert world. Just listen to this: Rich, moist Chocolate Espresso Bundt cake with Cappuccino glaze. Don't appreciate the bundt yet? Bake this recipe up and you just might change your mind.
Ingredients:
8 oz butter (2 sticks/1 cup)
1/2 cup high quality Dutch process cocoa
1 heaping tablespoon instant espresso powder dissolved into 3/4 cup water
2 cups granulated sugar
1 cup sour cream
1 tablespoon vanilla extract
2 large eggs, room temperature
2 cups all-purpose flour
1 teaspoon baking soda
1/2 teaspoon fine sea salt
Preheat oven to 350° F. Butter and flour a 10-12 cup bundt pan (be care to get into all those little creases in the pan!)
Melt butter in the top of a double boiler set over medium-low heat. Add cocoa and stir until smooth. Whisk in the espresso mixture and remove from heat. Add the sugar, sour cream, vanilla, and eggs to the warmed cocoa mixture and whisk until smooth. In a medium bowl combine flour, baking soda, and sea salt. Add all at once to the first mixture, whisking just until combined.
Pour batter into prepared pan. Bake for 40-45 minutes, or until it feels firm to the touch and has slightly pulled away from the sides of the pan. Cool in pan on a rack for 20 minutes. Carefully loosen the cake with a knife and invert onto a large plate.
Glaze:
2 Tablespoons of Espresso or
very strong brewed coffee
1/2 teaspoon pure vanilla extract
2 - 3 Tablespoons heavy cream
1 cup Powdered sugar
Gradually add the espresso and vanilla to the powdered sugar while whisking constantly, making sure to get any lumps out. Add the cream a bit at a time until you have the consistency you like (you may not use all of the cream). It should be thin enough to drizzle, but thick enough so that it does not all drip off the cake.