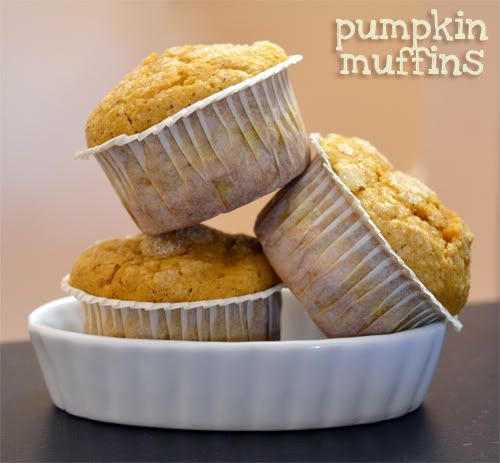 Today is October 1st. Break out the pumpkin! If you're looking for an excuse to buy pumpkin now that its on the shelves, try these muffins. I altered it (drastically) from the savory Pumpkin Cheddar muffins recipe that was chosen as this week's baked goodie for Club Baked, and I'm happy with the results. In addition to my savory to sweet adjustment, I also split my batter in half and made two varieties: Espresso Pumpkin Muffins and Pumpkin Pie Muffins. I'm not sure which one I love more! I've posted my recipe below as it is so different from the original, but if you're interested in the savory Pumpkin Cheddar version, see Billie of the blog Chocolate & Chakra - the host of this week's recipe. Thanks for hosting and picking this wonderfully Fall recipe, Billie!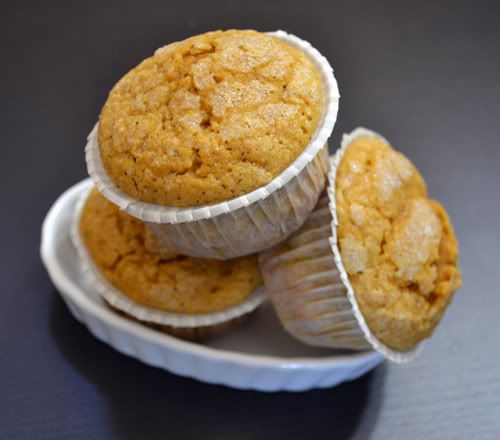 Pumpkin Muffins two ways: 1 with Espresso and 1 with Pumpkin Pie spice
Yields 15 cupcake-sized muffins
Ingredients:
1 cup canned pumpkin puree
3 tablespoons light sour cream
2 large eggs, room temp
1 stick unsalted butter, melted & cooled
2 cups all purpose flour
1 1/2 teaspoon baking powder
1/2 teaspoon Pumpkin Pie spice (home-made!)
1/2 teaspoon Espresso powder
1/2 teaspoon fine sea salt
3/4 cup packed light brown sugar
3/4 cup granulated sugar + extra for sprinkling
Directions:
Preheat oven to 400 F.
In the bowl of an electric mixer, combine pumpkin and sour cream. Add the eggs and butter and combine.
In another bowl, add the flour, baking powder, salt and sugars, and whisk to combine. Add to the pumpkin mixture.
Divide the batter in half. In one half of the batter, add the pumpkin pie spice. In the other half, add the espresso powder. Or, if you want an entire batch of 1 variety, simply double the amount of that spice and omit the other.
Put in standard sized cupcake tins lined with cupcake liners. Sprinkle the tops with granulated sugar.
Bake for 14 - 17 minutes, or until a cake tester inserted into the center comes out clean. Serve warm!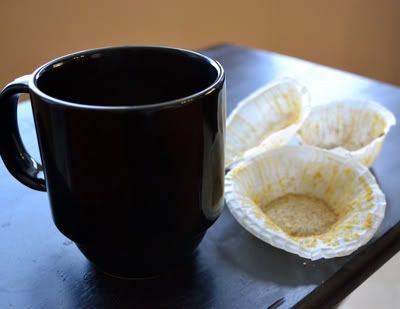 Visit the other Club Baked bakers to see how their Pumpkin muffins came out! I can't wait to see how the savory version tastes - I was too scared to try it!