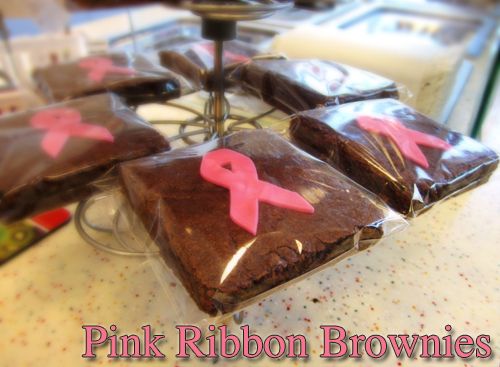 For our engagement party, we received a
Cricut Cake
!!! If you are familiar with the Cricut machines for paper, it basically is a little plotter that allows you to cut out any shape you want. The Cake version can cut sheets of frosting, fondant and gum paste and makes fancy cake decorating 900 million times easier. We finally got to use our new machine when we made Brownies to be sold to benefit
Making Strides Against Breast Cancer
.
I made a small amount of Pink Fondant, rolled it out and placed it on the carrier sheet.
We bought software for the computer that allows you to cut any shape you can create, so on the computer screen at the left, you can see the Cancer Ribbon shape we made (ok, the Ribbon shape that Daniel made).
After the machine cuts it, you just peel off the extra and your design is left on the carrier. Since it was very soft, I allowed it to air dry for a few minutes to firm up enough to handle it.
The 9x13 sheet of brownies we made was sliced into nice big squares.
Then we carefully lifted the fondant ribbon off of the carrier. I made a small batch of Simple Syrup, and painted a small amount of this on to the back of the Fondant Ribbon, and then placed it on the brownies. The simple syrup acts like a glue and holds your design in place.
The proceeds from the sale of these brownies went to benefit the American Cancer Society. Have you participated in any Charity Bake Sales this year?