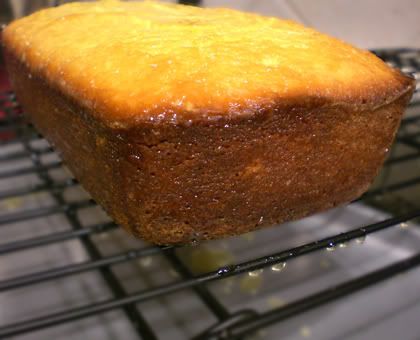 Yummm, I love lemon flavored things. Especially this time of year. When it's super hot out, sometimes the idea of a lemony dessert is much more appealing than a deep, dark, chocolatey one. Ok, even when it's hot I can eat chocolate, but every now and then lemon is a nice change. And this week for Sweet Melissa Sundays, Melissa of
Lulu the Baker
chose the Whole Orange Poppy Seed Cake, which Melissa Murphy nicely provided a lemon substitution for in her book. Perfect!
I had read on the
P&Q section
of
SMS
that perhaps the cake was a little too tart when you use the full amount of lemons. Well I like it tart and lemony! But since I'm bringing this to a family dinner, I thought I'd tone it down a litttttttle bit (but not too much). So, rather than use one and a half lemons she recommended, I use one whole lemon, and half of another lemon - minus the juice part. So I threw one whole lemon in the food processor (cut up of course :) and then cut another one in half, juiced it, and then threw the peel in the food processor. I also left out the poppy seeds simply because I didn't feel like going out to find any. :)
The result? A perfectly lemony cake. Not too tart at all. I made one loaf and one little cupcake, so that we'd be able to taste it before bringing it over for others to try. I always feel a little weird about bringing a new recipe over to share with people when: A.) I've never made it before and B.) I haven't tried it. So after we prepared the glaze, we brushed it on the tester cupcake, let it sit for a minute and then gave it a try. OOOH, the glaze was super tart! Since I haven't tried it again yet when the glaze has had time to set, I'm not sure if it was only super-duper tart because it was just made or not. But either way, Daniel loved loved loved it. He sat there for about a minute just licking the glaze off his cupcake. And this morning, the first thing he said when he woke up was, "I kinda wanna lick the loaf". So I think this recipe is a winner, no? Can't wait to try it again later and see how the flavor has changed.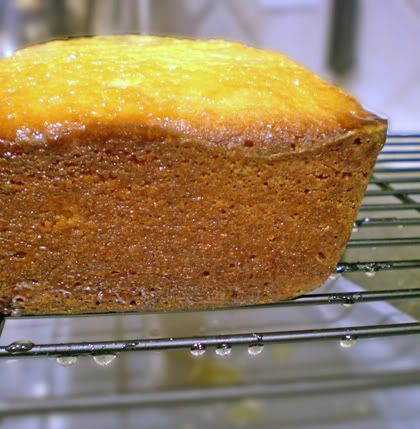 Ok, and now the
GRAND REVEAL
. Me and Daniel have spent months in research and development coming up with
this item
(and by research and development, I mean in the kitchen eating desserts). I don't know about any of you other bakers out there, but I scale my recipes a lot. I halve recipes, I quarter big recipes when I only want a little, I double recipes when I want more, and sometimes I'm even super complicated and a 1.5 a recipe when I want more than the original recipe but not quite double. Whew! This calls for some complicated math. I sometimes have to double measurements like 1 1/3 C. So how many ounces are in 2/3 of a cup? ORRRR when I'm reducing a recipe, sometimes I'll need to halve 1/8 of a cup. 1/16 of a cup? That's nearly impossible to measure in a measuring cup! So, how many tablespoons are in 1/16 of a cup? I have a chart in my kitchen with ALLL this information that I refer to constantly.
With this in mind, we've developed
That's Smart! Measurements Apron
! Yes that's right! We've put it on Etsy, go check it out. I'd really love your feedback, too - what you think about our new product.
The conversion chart helps you quickly convert cups to ounces to tablespoons to teaspoons as well as common baking pan substitutions. All you have to do is look down! The charts are upside down, so it can be easily read by the baker who is wearing it. It comes monogrammed with the first initial of you or your favorite baker and its fancy straps are adjustable to go as high up on your chest as you like, and can fit any size baker.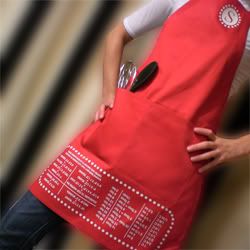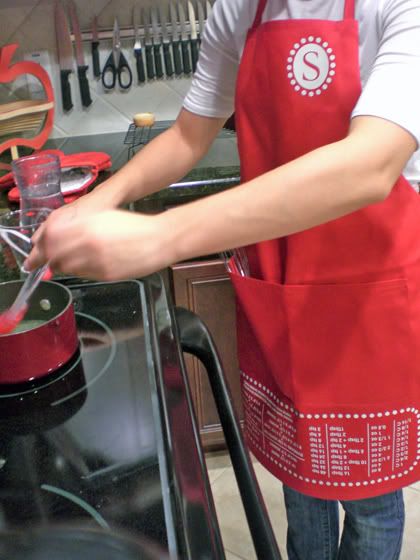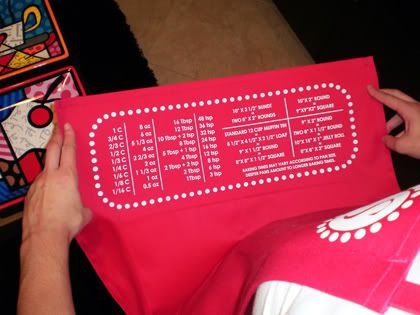 Let me know what you think about
our apron
!!! We're selling it for an introductory price to my blog readers and their friends. :)
And make sure you check out the other Sweet Melissa Sundays
bakers' posts
on Whole Orange/Lemon Cake!