We had had the idea to make this for a while, and last night we finally got around to executing it since Daniel's family was coming over for dinner and we had an excuse to make it. Are you curious what it is? Ok, I'll give you a hint, it is quite possibly the most indulgent dessert in history (and maybe one of the tastiest). Still can't figure it out? Another hint? Fine. Ok, what is better than cheesecake? Chocolate covered cheesecake, you say? Yes, you'd be right. And how can you make THAT even BETTER? Put it on a stick, of course!! Yes, we made chocolate covered cheesecake on a stick, with the help of Dan's sister.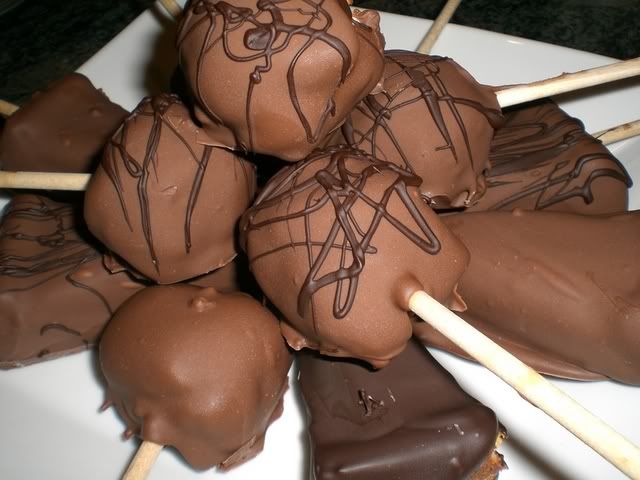 First, we had to start with the cheesecake. We made a very very simple cheesecake recipe with a yummy sugary nilla wafer crust.
Crust Ingredients
:
3/4 of a box of nilla wafers
1/4 c sugar
a little more than half a stick of butter.
1. Preheat to 350.
2. Lay parchment paper in the bottom of a springform pan, and butter the top of the paper and the sides of the pan.
3. Combine all ingredients together until fully incorporated, and has a crumbly texture.
4. Press firmly into the bottom of the springform pan, and bake for 10 minutes, until slightly golden around the edge.
Simple Cheesecake Ingredients
:
2 eight oz packages of cream cheese, softened
2 eggs
1/2 c sugar
1/2 t vanilla extract
1. Beat all ingredients together (yes, its that easy).
2. Add to crust, and bake about 35 minutes.
3. Leave it in the springform pan until it has cooled, then pop open the springform, and drag the parchment paper onto a cutting board.
4. Cut small slices, and then either lay them on a parchment lined cookie sheet,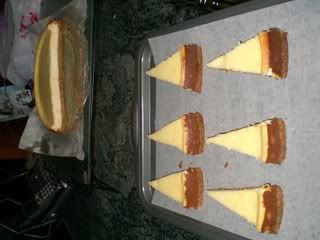 or take the slices and roll it into a ball, and lay on a parchment lined cookie sheet.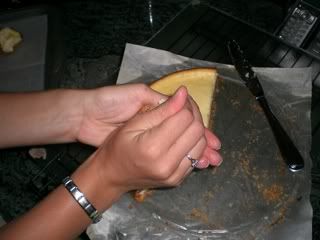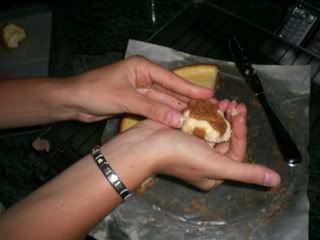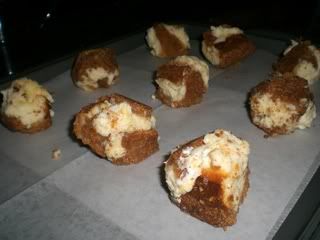 5. Stick sticks into them (as far as you can go so it won't slide off your stick when you're chocolate dippin' em)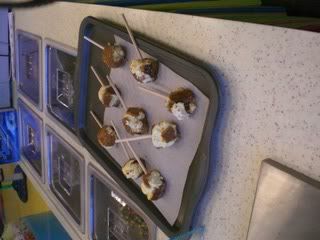 6. Let them set in the freezer for at least an hour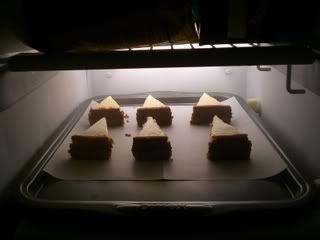 7. If you're not as lucky as us to get to have a candy store at your disposal, melt chocolate in the top of a double boiler.
8. When your slices/ballies have frozen, hold the slices by the stick, and dip into the melted chocolate. After dipping, return to the parchment paper to go back in the freezer to set the chocolate.
9. Swizzle & garnish as desired, and Enjoy!!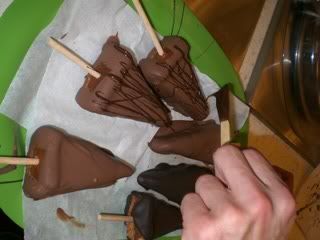 It makes quite a pretty presentation, too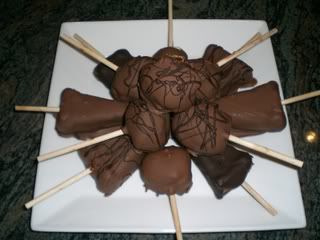 So, in conclusion, cheesecake is good, but chocolate covered cheesecake is better.